Generations of tech-savvy consumers are becoming increasingly particular about how they interact with businesses; they now expect on-demand, tailored, personalized customer service. As your consumers pursue this seamless experience across mediums and expect everything to be readily available at their fingertips, going Omni-channel is the only way to maintain customer loyalty and increase satisfaction.
Omni-channel communication is a customer service approach that provides consumers with an integrated experience across multiple channels such as SMS Mobile Messaging, Web Messaging, Chat and Social Media.
Many companies have attempted to implement an Omni-channel customer experience strategy, but some have found they lack the resources and understanding to take advantage of this powerful business strategy. This is where The CMI Group can help.
In this multipart series, we will cover the three most common hurdles organizations face when implementing an Omni-Channel strategy, including the importance of a smart investment, process implementation and buy-in, listening to and training your employees.
3 Reasons Your Omni-Channel Strategy is Turning Customers Away
Investment
You have implemented an Omni-channel approach, but all of your communication channels are disconnected and are working in separate silos. Multiple communication silos keep customers from having a seamless experience and can cause frustration with the inconsistency and choppiness of the communication.
Integrating multiple channels can be costly which can hinder companies from providing a smooth and consumer-centric Omni-Channel experience. The CMI Group is the right outsource partner to assist with connecting all of your consumer communications into one seamless strategy that will allow your consumers to start their journey through any channel such as talk, text, or chat and complete it on another.
Processes
A consistent operational foundation starts with clear leadership that sets the tone for the rest of the company. For many companies, each department has different methods and goals. In creating a successful Omni-channel strategy, a company needs to adopt and implement processes and goal incentives that encourage success and collaboration between departments.
In an Omni-channel environment, enhancing the customer experience across the organization is of utmost importance. CMI can provide guidance to process-level changes across different consumer-facing departments and functions to meet and exceed goals. Organizations must provide consistent follow up with these departmental changes and give transparent, up-to-date metrics to show improvements.
People and Training
However, if your internal staff is still having a tough time coping with the process changes and your customer's satisfaction is decreasing, it may indicate that your Omni-channel strategy is disjointed or disorganized.
To fix this, ask your customer service representatives for suggestions on how to streamline functions so they can perform their tasks more efficiently while communicating with the consumer. A powerful Omni-Channel solution platform provided by CMI can do the trick, as it allows customer service representatives to perform several different functions at once. Through this program, they can monitor conversations that take place across various devices and keep track of customers' full transaction and communication history.
Are you interested in eliminating the oversight and burden of managing the Omni-Channel experience? Allow CMI to utilize its U.S.-based, state-of-the-art contact centers and staff to manage consumer communication across all channels for your organization. This approach allows CMI to provide a seamless and dedicated consumer experience to your customers giving you peace of mind while you focus on the core strategies of your business.
The CMI Group delivers innovative, one-to-one customer service in a relationship-focused way to increase revenue and improve the customer experience and loyalty for our clients through innovative Omni-Channel solutions.
---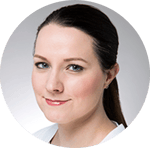 Jessica Amundsen
Revenue Cycle Director
Jessica Amundsen has more than 11 years of experience in accounts receivable team leadership, revenue cycle management and training, and lead practice operations. She possesses revenue cycle knowledge and hands-on experience working with physicians and administrative staff to develop strategy, implement best practices, and streamline workflows to achieve and surpass revenue goals.